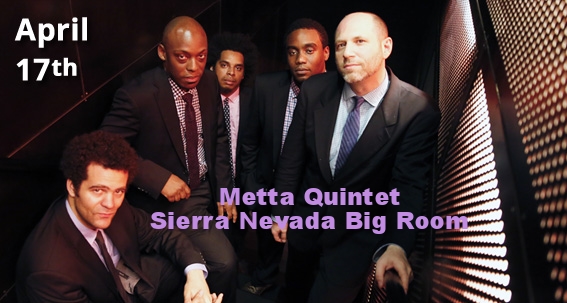 Musicians 2016
The 3rd Annual Nor-Cal Jazz Festival kicks off at the Chico Women's Club on Thursday April 14 with the Jimmy Grant Ensemble celebrating their new CD 'Lynn's Blues'.
On Friday April 15 we take the Ensemble to Old City Hall in Redding. Also on the bill are pianist Pat Karch with vocalist John Catanio and vocalist Kezirah and her wonderful jazz/soul band.
On April 16 it's off to a new location, POPS in beautiful Dunsmuir on the banks of the Sacramento River. Jimmy will again be performing and will be sharing the bill with the fabulous dou of Allison Scull and Victor Martin.
Then on Sunday April 17 we return to the elegant Sierra Nevada 'Big Room' for the world class jazz band "Metta Quintet' from NYC. Opening the show will be Chico's own Kezirah and her band. This show is in partnership with Chico Performances and is one not to be missed. For tickets click here.
Upcoming events include:
Sunday June 5 - Sa-Zil, a Salsa / Brazilian sever piece ensemble led by N-C Jazz favorite Delbert Bump. This will be a early evening show at the historic Chico Women's Club. Dancers Welcome!
Saturday July 23 - Nor-Cal returns to beautiful Lee Fong Park in historic Weaverville. Headlining the day will be Kezirah and her Band. Joining them will be guitar Masters Eric Peter and Mike Wiegert and another act TBA. This will be a late afternoon/ early evening event.
Fall 2016 - It's the return of clarinet and saxophone virtuoso's Will and Peter Anderson. Joining Will and Peter will be guitarist Alex Wintz. The boys will playing at POPS in Dunsmuir on Wednesday, October 19. Then it's Old City Hall in Redding on the 20th and in Chico on the 21st. More details to come. These guys are not to be missed.